12. GERMAN RUM FESTIVAL

July 08th & 09th, 2023
12 PM to 8 PM & 12 PM to 6 PM
STATION Berlin
The GERMAN RUM FESTIVAL is one of the largest trade fairs in the field of rum, rhum & cachaca worldwide and has been attracting thousands of visitors and exhibitors from all over the world for 11 years now!
With over 70 booths, more than 150 brands and therefore also over 500 different bottlings, we were able to prove once again in 2022 that rum is not only exciting and extraordinary, but also the most diverse spirit in the world. Every visitor was able to discover the right thing for himself, whether beginner, nerd or connoisseur, there was a highlight for everyone!
In addition to the wide selection of booths, the thirst for knowledge was also quenched at over 20 tastings and master classes. The various lectures were of course about taste, but also production processes, barrel aging and ecological topics were covered. Master distillers, producers and owners were also on hand to answer questions away from the stage.
Now the preparations for the 12th GERMAN RUM FESTIVAL are already in full swing! We want to celebrate with you and above all enjoy! In a familiar atmosphere we dedicate two days full of enjoyment, joie de vivre and knowledge to our favorite spirit. We are looking forward to seeing you!
Translated with www.DeepL.com/Translator (free version)
11th GERMAN RUM FESTIVAL "Back to Normal"
How time flies – Two months have passed already
Today we would like to reminisce with you about a great 11th GERMAN RUM FESTIVAL.
Under the motto "Back to normality", we were able to spend a wonderful weekend together with you with a lot of enjoyment, knowledge and above all joie de vivre. With over 500 different rums, there really was something for everyone: from Panama to popcorn, world premieres, GRF-exclusive bottlings, the odd outlier, delicious rum bratwurst and of course everything in between.
On more than 5,000m² you had the opportunity to talk shop with exhibitors at a total of 72 booths from all over the world or to participate in one of the more than 20 tastings and master classes. Whether you are a beginner or a full professional, prefer mild or rather dry, every visitor found the right booths for himself and could clarify the really important questions directly with master blenders, distillers and importers.
Parallel to the GERMAN RUM FESTIVAL, the GERMAN RUM AWARDS also took place again. An international and independent jury of experts tasted over 150 different rums during 2 days and evaluated them in 14 categories according to international standards. The result was gold, silver & bronze medals for the best in their category.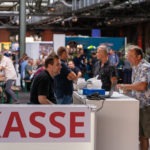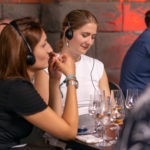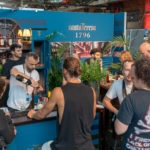 10 years German Rum Festival, 10 years rum from all over the world, 10 years passion and dedication!
When we took the first steps 10 years ago and started planning the first GERMAN RUM FESTIVAL, we could not have imagined what would one day emerge from this small idea. We wanted to organize a small festival for everyone who cared about rum and to give this incredibly diverse world of rum a stage. It was about more than just the pure drinking pleasure. It was about the Caribbean attitude towards life, the get-together with friends and family and, above all, the joy of the moment.
Today, 10 years later, the GERMAN RUM FESTIVAL is one of the most important events in the rum world. Bigger, Higher, Further was never our concern, nevertheless, or maybe because of that, the GERMAN RUM FESTIVAL is today the biggest fair in the world in the field of Rum, Rhum & Cachaca.
Despite the special circumstances, the 10th GERMAN RUM FESTIVAL was a complete success. On both days of the event, a total of 2484 visitors were able to explore the world of rum at 34 booths. The feedback from visitors and exhibitors was consistently positive, with the quality of the fair receiving particular praise. All guests who could not or did not want to visit the festival in person had the opportunity to visit all tastings and the exhibition booths digitally via livestream.
9TH GERMAN RUM FESTIVAL – THANK YOU!
It was a (summer) party for us!
The 9th German Rum Festival is over and leaves a lasting impression on all of us. There was a new appointment, and none of us really knew what was going to happen there in the beginning. But thanks to a great community of friends, acquaintances, bon vivants and family we spent a wonderful weekend with good rum at Caribbean temperatures in Berlin
On more than 5,000 m² of the STATION Berlin 63 exhibitors gathered with more than 140 brands and 500 bottlings from all over the world to convince and enchant each of the 4400 visitors.
Next year we will continue, then with our first big anniversary. 10 years – in words: ten! – it is then since the first idea, the first drafts and the anticipation that has remained until today. We never thought that our little festival would develop like that and it's one of the biggest in the world. That's why we would like to mention a special one, the cornerstone of the German Rum Festival: our team of family, friends and helpers that supports us throughout the year. Without our little crazy family we would not be able to invest so much passion and passion to create moments that will be remembered for a long time to come, for the visitors and exhibitors as well as for ourselves. And that's what we want thanks!
We were able to capture some of these moments in pictures and films – enjoy browsing!
The 9th German Rum Festival Overview
In 1865, Juan Serralles founded Destileria Serralles in Ponce, Puerto Rico and began distilling his first rum. He gave the name DON Q, in reference to Don Quixote, probably the most famous character from classical Spanish literature. Today, just as then, all rum varieties are matured and bottled on site to ensure the highest quality.
Read More
By signing up you accept our privacy policy.
You can find the GERMAN RUM FESTIVAL here
Got any questions? Tell us!
By sending us your message you accept our privacy policy.