Rum Artesanal Trewlany Double Cask, LP, H 51,9%
Congratulations!
German Rum Awards – the most important national and international award for Rum & Rhum! An international jury, consisting of rum experts, tastes in a multi-day blind-tasting rums of the same categories against each other and evaluates them according to a recognized points system. In each category gold, silver and bronze are awarded.
What does "professional jury" mean? All participating jurors have many years of experience in spirit tastings and are experts in all things rum. They participate in international competitions and hail from various different countries. To have a good mix in the panel, there's always at least one jury member with excellent sensory but not necessarily subject-specific training. We also invite bartenders to the jury as they bring additional aspects to the overall assessment.
"However, what makes the jurors truly special is the fact that they work for free. We only cover their food & lodging" – The Untouchable Jury!
burns passionately for good distillates, works in the distillate manufactory fine distillery Simon's, is trained Edelbrandsommelieré and experienced taster at various awards, including for Bayernbrand and the Bavarian Institute of viticulture and horticulture. Has a penchant for rum and barrel-stored fires.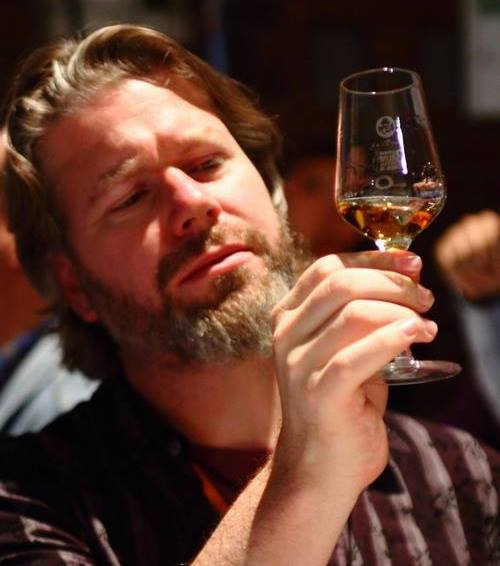 is an independent spirit ambassador, cocktail enthusiast, and rum fanatic.
John began judging for international rum tasting competitions in 2010.  Starting with the Ministry of Rum Festival in San Francisco that year, he has since judged for dozens of competitions and events around the world including Miami, Berlin, Paris, Venezuela, Grenada, Amsterdam, Glasgow, and London.
Benoit Bail's first contact with a distillery goes back to the year 2008 in Cap Vert on the island of Santo Antão. Since then, he became a rum enthusiast and traveled to the French Caribbean several times to find out more, until he founded his own flavored rum brand in 2013 in Luxembourg.
A well-known figure in the San Francisco Bay Area cocktail scene and the tiki world, Suzanne Long owns and operates Bar Longitude in Oakland, California, a world renowned tropical destination featuring over 500 premium spirits and one of the only house-recipe driven tropical cocktail programs in the world.
After being involved in beer and wine tastings for many years in Sweden, Kris fell in love with the wide flavour profiles of cane-based spirits.
With a background in cancer biology and genetics, he is currently involved in shifting this knowledge to the field of rum through developing molecular classification systems for spirits. 
Johnny has been a rum enthusiast for many years and has visited several distilleries as a photographer for
the Danish Whisky & Rom magazine. Previously been judging rum competitions in Miami, Berlin and Copenhagen.
Primarily known in the rum community for publishing the "Hydrometer method" on the Internet.
A method that allows people, in a cheap easy way, to measure how much assumed sugar that has been added to some rums.
Occasionally you will find Johnny assisting one of the largest Danish rum importer at rum festivals.
started his professional Spirit carreer behind a Cocktailbar 1985, during his studies of sociology. Some years later he began giving lectures on different spirits, mainly Whisky. Where he got the highest accolades as he became a Keeper of the Quaich in 1996, and a Master in 2007.
I did Technical University in Amsterdam and I'm a fully qualified teacher of food and drinks. When I specialized I became a Spirits educator and finally a Rum specialist. Recently I also became WSET qualified teacher.
Rum judge, consultant, promoter and retailer…
Jerry is co-founder of The Rum Embassy, a society in charge of the promotion of the Agricole Rhum of Guadeloupe and Martinique around the world
is a rum enthusiast living in Copenhagen, Denmark — known as "Rum Thomsen" by his friends.
Ingvar has been writing about rum for the Danish "Whisky & Rum Magazine" since it started I 2011. It a 100-page magazine which is published five times a year.
Italian bartender, barber of the smallest cocktail bar in Munich for 11 years, the Barroom-Muenchen.de Emanuele is a very respected professional who has developed his own rumblends for his bar. He is always looking for exciting rums. Emanuele gives cocktail courses, works as a consultant and member of the bar circle.
began his professional career as a bartender and manager at Radisson and Sofitel hotels in Wroclaw.
Then he developed and gained his experience in international companies such as Bacardi Martini Polska and Moet Hennessy Polska, with which he was associated for over a decade. In these companies, Tomasz was in charge of building a distribution network, organizing trainings, parties & venues and various industry and business events.
has many years of experience in high-end restaurants, specialist retailers, in seminars, as a member of culinary associations, trade visitor at conventions, juror of any number of competitions and last, but certainly not least, as Master of Tasting.
has been working as a bartender in Berlin for 16 years, where he also trained. He has worked in prestigious bars such as AMANO, Principal or Grand Hyatt and has graduated as a certified business economist. He is currently working in the bar WAGEMUT, which is known for its large range of spirits. There he has developed his passion for spirits, in particular the sensory knowledge refined by constant training.
By signing up you accept our privacy policy.