6. German Rum Awards - Competitor & Winner
GERMAN RUM AWARDS
We proudly present: The International Jury of the GERMAN RUM AWARDS
Andreas Anton
After my training as an assistant in chemical technology I first started working in the aroma industry, which sparked my interest in all kinds of beverages. But even after finishing my subsequent study of beverage technology in Geisenheim, my thirst for knowledge hadn't been quenched just yet.
A friend of mine got me interested in rum about 2.5 years ago. He had three different kinds on the table (Botucal RE, Pampero Aniversario, Angostura 1919), which of course I had to try. I was immediately fascinated with a beverage that was made from a single raw material, yet could have such different flavor profiles.
Ever since, I don't just collect premium rums, but also spend a lot of free time researching all things rum – its history, the distillation process and the various distilleries and producers. So far, I have been able to visit Appleton Estate and the Destileria Santa Cruz de Tenerife. I am currently working on a little tasting book with attributes and expressions sorted by category in order to provide my friends with a sensory vocabulary for tastings.
As a member of the jury I am very much looking forward to trying and rating new products as well as expanding my own sensory library. So…. rum – what else?
Günter Windhorst
About Windhorst: The bar Windhorst opened 1999. Since then, the owner and namesake Günter Windhorst runs this little gem with sustainable enthusiasm and passion.
After seven years of education in the "Bar Würgeengel " in Berlin, Kreuzberg and with the experience he had gained as a trained chef, he started in the early 90s with the idea of Liquid Kitchen. After many attempts he found fresh herbs, spices and fruits from all over the world that had its place only in the kitchen so far, its way into the cocktail menu. The drinks offered new intensity of flavors and viscosity.
All new distillates which offer the nose and the palate new experiences, are reflected in the well-stocked backboard.
In a cozy and relaxed atmosphere ensures the bar team for constant quality in glasses.
John Gibbons is an independent spirit ambassador, cocktail enthusiast, and rum fanatic who began judging for rum tasting competitions in 2010.  Starting with the Ministry of Rum Festival in San Francisco, he has been on international tasting and competition panels around the world including Miami, Berlin, Paris, Grenada, Amsterdam, Glasgow, and London.
In 2010, while living in Glasgow, John worked at The Tiki Bar and Kitsch Inn and started a monthly Glasgow Rum Club to help spread the knowledge of rum and connect bartenders and the rum curious with rum distillers and producers.  In 2013, while living in London, he co-founded Rum Symposium, a London based organization of rum experts and aficionados dedicated to the support and promotion of the rum industry.
John continues to keep current by attending and being involved in rum education programs and events such as Beachbum Berry's and StanisLav Vadrna's Faux-Tropical Bar School in Ibiza, Rum Experience University in Salobrena Spain, Authentic Caribbean Rum Training at WSET London, Boutique Bar Show London, Boutique Bar Show Glasgow, London Cocktail Week, Caribbean Rum & Beer Festival in Grenada, RhumFest Paris, Bar Convent Berlin, German Rumfest, UK Rumfest, Rum University London, Tales of the Cocktail in New Orleans, Imbibe Live! in London, Mauritius Rum Fest, Lisbon Bar Show, Rom & Cocktail Festival Copenhagen, Miami Rum Festival, Boutique Bar Show Edinburgh, Ministry of Rum San Francisco Rum Festival, and Ministry of Rum Chicago Rum Festival.
Seeing how cane is grown, rum is made, and spirits are produced and getting hands on experience is also extremely important.  Some recently visited distilleries include Barbancourt (Haiti), Havana Club (Cuba), Foursquare (Barbados), St Nicholas Abbey (Barbados), Angostura (Trinidad), St Lucia Distillers (St Lucia), Santa Teresa (Venezuela), Diplomatico (Venezuela), River Antoine (Grenada), Westerhall (Grenada), Clark's Court (Grenada), Clairin Vaval (Haiti), Ron Montero (Spain), Great Lakes Distillery (USA), Madison's Old Sugar Distillery (USA), Yahara Bay (USA), Miami Club Rum (USA), Glengoyne (Scotland), Auchentoshan (Scotland), Highland Park (Scotland), Glenfiddich (Scotland), Glenmorangie (Scotland), Zuidam (The Netherlands), Jameson (Ireland), Sipsmith (England), St. George Spirits (USA) and Chartreuse (France).
Rum has been John's spirit of passion for many years and he has collected a few hundred bottles along the way for reference — and because you never know when you will need just the right one for that special occasion.  Looking forward to finding some more winners to add to the collection this year in Berlin!
This will be John's sixth year on the panel for Berlin Rum Festival.
My name is Marco Pierini and I was born in 1954. I got a degree in Philosophy in Florence and I studied Political Science in Madrid, but my real passion has always been History. Then I discovered rum. With Francesco Rufini,  I founded La Casa del Rum (The House of Rum), that runs a beach bar and selects and distributes Premium Rums in Italy. And I have returned back to my long life passion: History: Rum has a terrible and fascinating history, made of slaves and sailors, imperial fleets and revolutions.
All this I try to cover in a column – The Rum Historian – on the GOT RUM? Magazine, in my FB profile, on the Italian FB group THE RUM DAY and on the French web magazine RUM GAZETTE. I represent THE RUM UNIVERSITY in Italy and gave Conferences in INTERNATIONAL RUM CONFERENCE (Madrid), GERMAN RUM FEST (Berlin), and THE RUM DAY  (Milan). I have been juror in rum tastings in Miami, Madrid and Berlin and I attended also the Rum Festivals of Rome, London and Mauritius.
TheFloatingRumShack.com started as a hobby, a simple means of recording the things that the husband and wife team of Peter and Pauline Holland learnt as they developed their interest in rum; attending masterclasses and rum festivals, travelling to many countries around the world to view distilleries and rum producers. The hobby is now a full time career of presenting, training, sampling, writing, consulting and promotional activities. Peter has been judging at spirits tasting competitions such as the IWSC, ISC and of course the German Rum Fest for a number of years now, but still feels like he is just getting started!
Their goal is simple: remind everyone that rum is the best spirit category of all – you just need to get past the jokers to find the diamonds!
Bernhard started his professional Spirit carreer behind a Cocktailbar 1985, during his studies of sociology. Some years later he began giving lectures on different spirits, mainly Whisky. Where he got the highest accolades as he became a Keeper of the Quaich in 1996, and a Master in 2007.
He is a co-founder of ENSE (European Network of Spirit Experts). Since 1997 Bernhard is a panel Member at different Spirit Competitions in Europe, and since 2010 in the US. He became a proud member of RumXP 2012.
His friends say of him,: "I would once like to pass holidays as what you are calling work" and "why are you wearing Hawaiian Shirts all Summer"
I am a rum and whiskey enthusiast living in Denmark — known as "Rum Thomsen" by my friends – working as a Software Development Project Manager, so rum is only my hobby.
I've spend much of my spare time on Rum, over the past 14 years. I have been hosting rum tastings since 2005 with increased interest every year, now exceeding 30 tasting events annually with up to 180 participants. I'm an author for rum and publish in the Danish "Whisky & Rum Magazine" which is published four times a year, with more than 80 pages.
I am also member of the judging panel og rum experts called RumXP which Robert Burr uses for his Miami festival and made several trips to various distilleries in the Caribbean, Cuba, Barbados, Trinidad etc.
For many years, rum has been a passion of mine. In particular I'm interested in the details about the production process of rum. By attending Masterclasses, Tastings and rum festivals around the world, I have met a lot of people in the industry. The knowledge I have gathered over the years and the people I've met has opened up the opportunity to attend as a judge in competitions at Rum festivals.
Previously I've been a judge in Miami and Berlin. Today most people associate me with the Hydrometer method of measuring if something has been added to the rum (which in most cases must be assumed to be some sort of sugar).
When travelling to rum festivals, I usually travel with my friend Ingvar Thomsen (fellow rum judge and writer for the Danish Whisky & Rom magazine). I take photos for the magazine and I proof read Ingvar's articles before they go to print. In general I enjoy my rum neat without ice, this way I get the best experience out of the rum. But, a cocktails once in a while, is not so bad either (if it's based on rum).
Marc Baittas
I discovered rum/ron/rhum 5 years ago as my passion at the first Rhumfest Paris and this has been a quite new experience for me. I couldn't imagine where to find rum around world, as the actual claim of the German Rum Festival is this year. What to do? I bought a book to learn more about the world of sugarcane, history … and also i tried a lot different brand and it was very amazing to me.
During the last 5 years, i travelled Cuba, Martinique, Mauritius Island and I still want to visit more and learn more about this most exciting spirit. But I can tell you something: I do prefer rhum! – Rhum from Martinique and Guadeloupe and also from Mauritius but I'm not going to tell you which on as this is a secret.
And the best time to enjoy a glass of rum or rhum is with a good friend combined with a cigar.
Nicolas Kröger, manager and owner of the Rum-Depot Berlin, Germany's largest specialty store for rum, is a young and rising connoisseur and a cosmopolitan in the rum scene.
He's previously traveled to New York, London, the Maldives, and South Africa. Having left behind the luxury hotel business, he now focuses on the production and sensory aspects of spirits – rum in particular and especially rhum: his true passion!
Nicolas is this years hospitant.
A well-known figure in the San Francisco Bay Area cocktail scene and the tiki world, Suzanne Long owns and operates Bar Longitude in Oakland, California, a world renowned tropical destination featuring over 500 premium spirits and one of the only house-recipe driven tropical cocktail programs in the world.
With her innovative spin on tropical mixology and expert knowledge of rum, Long frequently presents educational seminars, leads tastings and judges competitions at cocktail, rum and tiki festivals internationally.
I'm a Cigar Sommelier, was Habanosommelier Champion 2010 in Cuba, writer for "Got Rum" magazine in charge of their Cigar Pairing section since 2012, Rums Consultant having studied at Rum University, Austin, Texas.
I've been working with Nadalie Cooperage in Chile for oxidations of alcohols during their aging. Member of the World's 50 Best Bars Academy, and judge in International Festivals of Rum in different editions, which include Madrid, Rome, Grenada, Saint Marteen, Haiti and Berlin.
Eugen Kasparek has many years of experience in high-end restaurants, specialist retailers, in seminars, as a member of culinary associations, trade visitor at conventions, juror of any number of competitions and last, but certainly not least, as Master of Tasting.
As early as 1978, when he was already working as a young bartender, he discovered his love for unique spirits at the legendary "Johns Club" in Garmisch Partenkirchen – especially among the huge variety of whisk(e)y and rum! Quickly, he fell in love with the tradition, the different historical developments and the respective range of flavor profiles and characteristics of these spirits.
Since 1997, he has been exclusively working with these spirits. His many years of experience, his vast knowledge and his focused sense of taste are his greatest assets when he gives presentations or leads tastings and seminars among experts – equally so when he held one of his famous tastings at the Berlin specialty store Whisky & Cigars. He is the store's manager and advises a large customer base of laymen, passionate professionals, and international collectors. In 2014, Whisky & Cigars was awarded best whisky shop in Germany.
During his travels around the world, he is always on the lookout for that hidden culinary paradise and the most beautiful spirits. His knowledge of rare spirits is also evident in his expertise regarding whisk(e)y, cognac and rum at the art and luxury auctioneers Auctionata.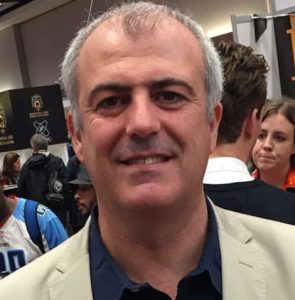 Javier Herrera es un profesional con estudios universitarios de Diplomatura en Hostelería en la Universidad Complutense de Madrid y cursando estudios de Ingeniería Química en la UNED.
El ron llega a él desde siempre, debido a que su familia vive en las provincias de Granada y Málaga, así como de residencia en las islas Canarias. En esto tres lugares de España antiguamente la caña de azúcar era uno de los motores principales de la economía de esos lugares. Desde su juventud conoce bien el ron de esas zonas, y su inquietud, le hace visitar diferentes destilerías por el mundo desde bien joven.
Ok, ok – die Übersetzung kommt noch…
Keegan Menezes started out as a cocktail bartender when he was in Oxford at university, although he left his professional cocktail making career behind he has remained part of the London Cocktail bar scene. He is known for his depth of knowledge across the spirits category, including Tequila, Mezcal, whisk(e)y, Brandy, Gin, and his favorite and the best spirit – Rum.
Keegan has recently spent a month traveling around the English and French Caribbean, visiting Distilleries; enhancing his personal relationship with the distillers and of course tasting Rhum/Rum.
He uses his knowledge to help bars and London bartenders understand all the different aspects of the Sugarcane spirit category, and how they can be used in Cocktails and as straight up spirits.
Leonardo Pinto, Isla de Rum founder, approaches the world of rum in 1997, when the "rum culture" still not reached Europe. In 2004 he opens his first online blog named Isla de Rum and after few years Isla de Rum became a real company. Today Leonardo is recognized as one of the major rum experts in Europe, he is the only Italian member of the International RumXP panel and works around the world as a consultant for rum industry at different levels (brand building, Import/Export and marketing consultancy, consultancy for independent bottlers and rum brokers).
He is also the creator and director of ShowRUM – Italian Rum Festival, the first Italian show completely dedicated to rum and cachaca, that take place in Rome every year, and the  related S.T.C. – ShowRUM Tasting Competition, the first and only Italian blind tasting competition about rum and cachaca. Since 2012 Leonardo developed the RUM MASTER, an educational program about history, rum making process, laws related to rum production and labeling, and advanced tasting techniques for professionals and enthusiasts.
Leonardo travels around the world, mostly through Caribbean, as an international judge, as a trainer, as a consultant and as a speaker in masterclasses and seminars in international shows like the Miami Rum Reinassance, the Madrid Congreso del Ron, the New Orleans Tales of the Cocktail and in the biggest bartending school around Europe and USA.
I did Technical University in Amsterdam and I'm a fully qualified teacher of food and drinks. When I specialized I became a Spirits educator and finally a Rum specialist. Recently I also became WSET qualified teacher.
I'm an international wine & spirits judge since 2000 and attend at several competitions per year around the world. I'm is also part of Rum Tresor where he sells old Rum (no longer for sale in the shops) per shot to those who can appreciate the good drink and want a sip of Rum history.
My knowledge is not the typical "PR blabla" but the real stories and facts. I'm in the drinks business since 1993 and have seen a fare part of the world of spirits. My knowledge doesn't stop with Rum. Not only at the end of sales, but also in production. I know products from basis to end product with plenty of technical information. I'm also a journalist and wrote for several national and international magazines. Finally I'm also the author of "Spirits in the Sky", the book about Zacapa rum.